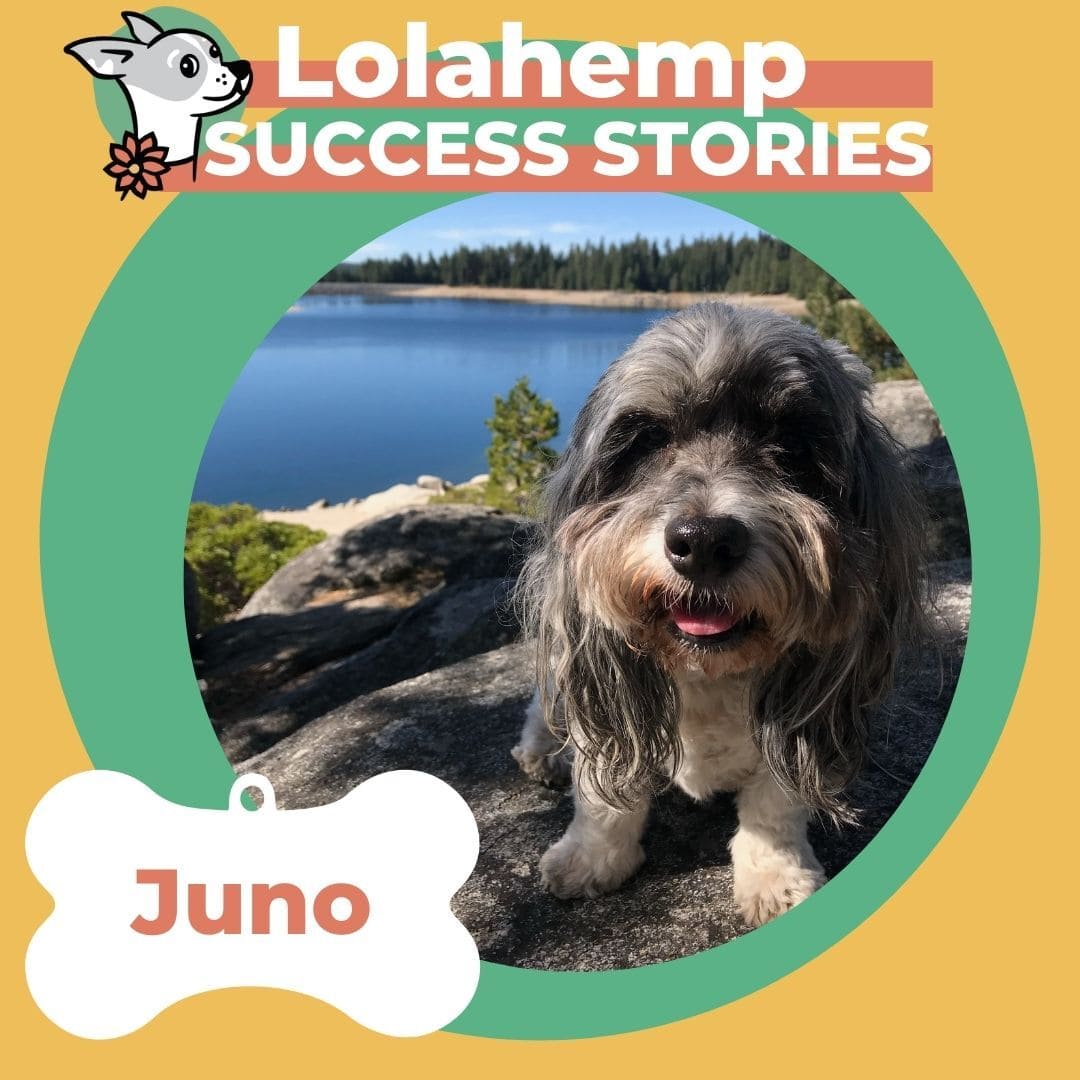 Today we hear from Marianne Dana of Folsom CA. Her fur baby, Juno, started to experience joint stiffness in her front legs that prevented her from doing the things she loved most. In just a few short weeks, Lolahemp helped Juno by promoting joint health and flexibility, and by relieving this uncomfortable stiffness. This improved Juno's comfort level and allowed her to enjoy the things she once loved.
Describe Juno in 3 words.
Juno is independent, a treat-lover and a hunter.
How has Juno helped you over the years?

Juno is a loving, great companion. She used to be a great swimmer too. She also loves camping! She's my fun-panion, with a sweetheart personality.

(Juno pictured above in her Christmas coat)
What kind of condition was Juno in before you found Lolahemp?

It was difficult to get Juno motivated for her daily walk. She was very stiff in her front leg, lost flexibility and was in discomfort from normal daily exercise and activity. She stopped jumping up on my bed to sleep, instead, she would crawl under the bed to sleep.
Has Juno experienced any worrying side effects from prescription medications?
Not yet, but I've cut her Galliprant in half since Lolahemp.

What are some of the specific improvements you noticed after using Lolahemp?

She willingly goes on walks, she even runs at times, and now she jumps up on my bed again! She just seems like a happier dog.


(Pictured above: Juno with her new adopted brother Bodie)
How long did it take to see improvement after starting Lolahemp?

3 weeks.
How much Lolahemp does Juno use?

She uses the 600mg/60mL oil and gets .5mL twice per day.
Is there anything you are able to enjoy with Juno now that you couldn't before Lolahemp?

Short but cheerful walks, a happier dog, and a companion that sleeps on my bed again.
What made you choose Lolahemp?

I was randomly researching on the web about various pet hemp products. I wanted something organic and a pure product. There were hundreds of brands out there but Lolahemp caught my eye and trust.

(Pictured above: Juno with her younger half sister Olive who passed away suddenly at the young age of 8)
Would you recommend Lolahemp to a friend?

Absolutely! I already have done so.
Does Juno have a Halloween costume?
Not yet, but I'm working on it :)