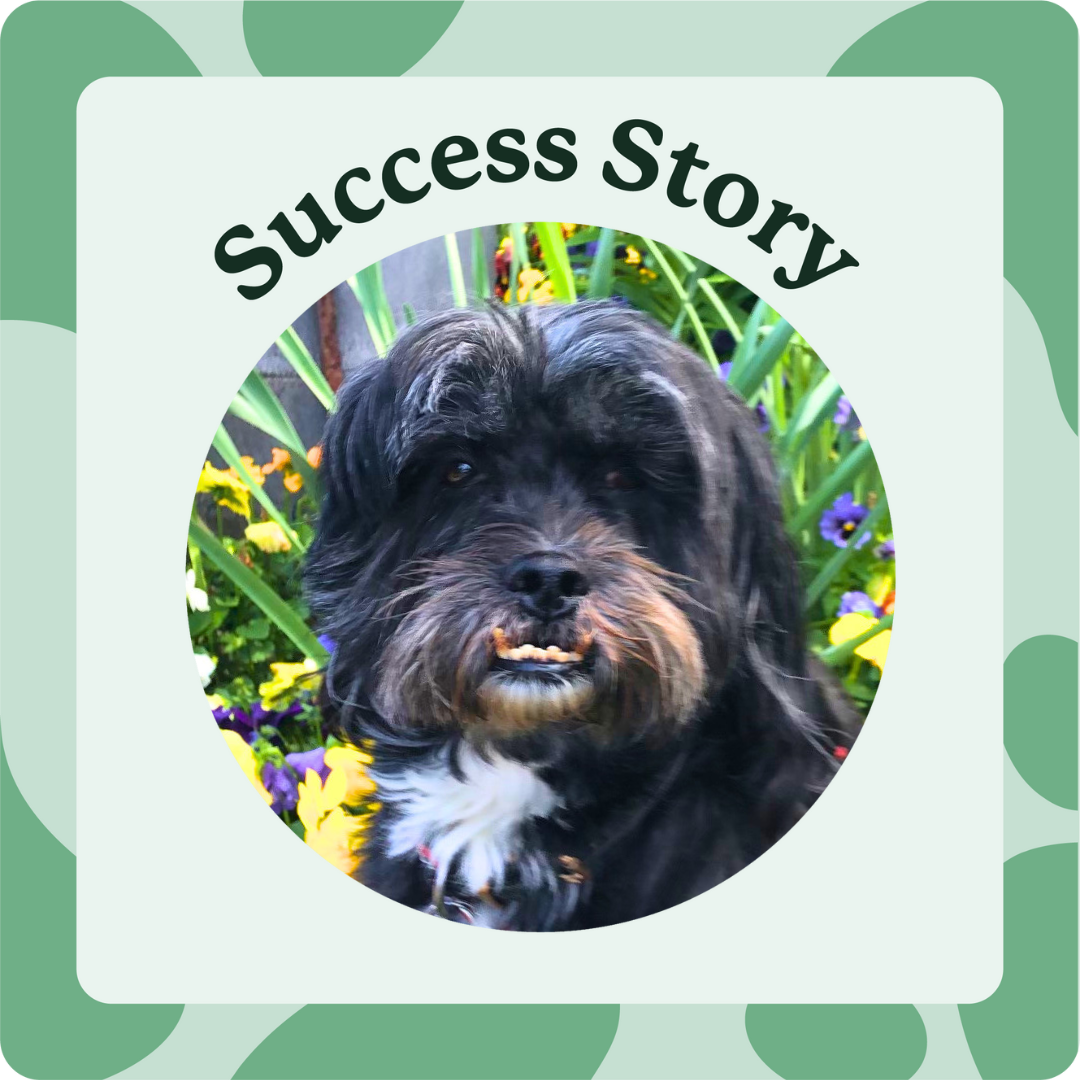 We deeply appreciate the stories and reports from owners who use our products. When we hear stories like this one, it inspires us to keep doing what we do.

It's always motivational to see a pet improve, but rarely do we hear from owners whose pets are truly on their last leg, only to try Lolahemp and recover.

Below, you'll find a conversation between Lolahemp founder Joey and Blackie's owner, Tracey, a loving dog owner who tried Lolahemp just in the nick of time. 
Enjoy the conversation!
"So, could you tell me a little bit about his backstory?"
"I got him about twelve years ago, he was the last one left in the pet shop. He was seven months old and nobody had purchased him yet (chuckles), so I came across him and fell in love with him... and he's just been a great dog.

He started to not feel good, he just became lethargic. He could hardly walk anymore, couldn't lift his head hardly to eat or drink, and we had to pick him up to put him on the bed...had to pick him up to put him outside.
They told me that we were probably going to have to put him down, and I said 'no we're not going to do that.'

Eventually, I had to call my friends that just love him to come over and say goodbye. I told them I was going to have to take him to the vet today because he wasn't doing well at all."
"Did this come on over the course of a few weeks or months?"
"A couple months, but I mean he was fine before that. So I had to have everyone come over and say goodbye.
Luckily, my husband got home late for work that day and I went on Facebook and saw an ad for Lolahemp.
I thought 'okay, I need to order this because I know he's not ready to go.' He was just alive and happy a few weeks ago — there was not too much wrong with him, besides old age.

So, I ordered it on Amazon because I only had a matter of days and the shipping was faster. I got it, and as soon as it came I gave him his dosage.

The next day, same thing. By the third dose, which was the second day, he was up and walking and drinking and it was amazing.

That was my last hope, I thought 'why not just go for it and see if this works,' and it did.

It's amazing. It actually, really worked."
This video shows the before and after difference in Blackie's recovery:
"What made you want to try Lolahemp?"
"The video reviews on your facebook ad. The dogs that could hardly get up and walk and they were playing again. I just thought, "I need to try it, I need to because I know he's not ready to go."
"Did the veterinarian prescribe you anything for him?"
Note: Blackie's X-rays showed that he barely had any cushion between parts of his spine. This caused a lot of pain, and the pain meds and steroids referenced below were prescribed for that reason.
"They just offered pain pills and I tried the pain pills—they worked a little bit—some steroids, and that helped a little bit but not enough.

No one could really figure out what was going on with him, so thousands of dollars to the vet and nothing was improving.

So, I thought "I'm just going to try this and hopefully it would work."
Above: Example of an owner giving Lolahemp oil to her dog.
"Had you ever tried hemp products before?"
"Yeah I've used CBD before but I never really noticed anything for me. Other than that, I hadn't tried it."
"So, he's doing better now?"
"He's moving very good. I took him on a walk just the other day and he just wanted to run.

The walks are a little shorter than they used to be (chuckles), but he loved it, he gets excited and he wants to run—he even ran a little bit."
"If someone else who was thinking of trying the product but wasn't sure, what would you say to that person?"
"It works. Just try it, it works. It worked for my dog and I had no hope. It was my last thing that I needed to try, and it actually worked.
Thank you, I owe you guys. You saved my dogs life, so thank you."
Thank You for Reading!
We hope you enjoyed Tracey & Joey's discussion!
If you'd like to see more stories like this one, you can click here to explore our Success Stories. You can also peruse our reviews for a little inspiration as well, as many of them include sweet dogs like Blackie with beautiful stories of recovery.
After our conversation, Tracey was nice enough to give us an extra timeline of the first few days after starting Lolahemp:
Second day:
Blackie was walking, able to eat and drink on his own. 
Third day: 
He was wagging his tail at Tracey.
Fourth day: 
He greeted her when she got home and came running to the door.
Fifth day: 
Blackie woke up and "was his old nippy happy self" rubbing his face on Tracey, biting at her feet, and wagging his tail.
"It works. Just try it, it works. It worked for my dog and I had no hope. It was my last thing that I needed to try, and it actually worked.