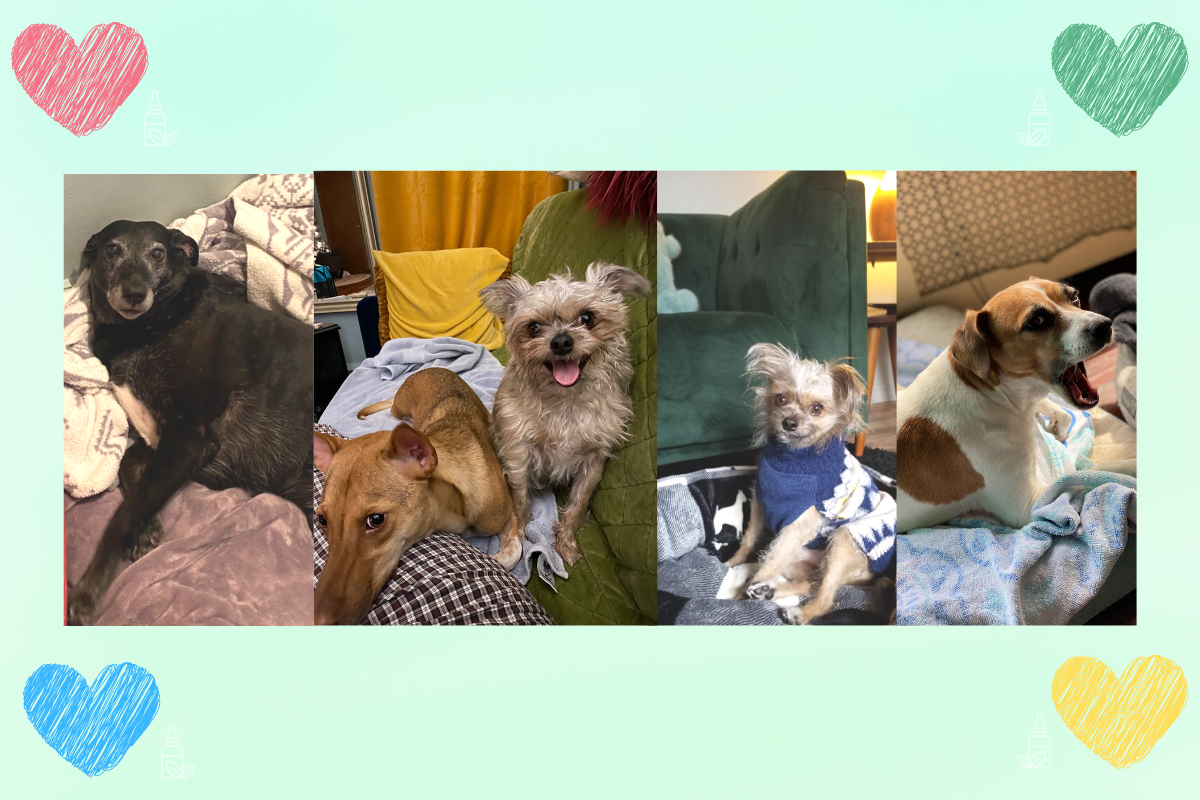 We're always proud to hear stories of Lolahemp making a difference in pets' lives.
Today, we're hearing from Samantha Kliniewski, owner of four wonderful rescue dogs. Each one has a unique story, and each benefits from Lolahemp in various ways.
The following is taken from a conversation between Samantha and Lolahemp's founder, Joey.
"Can you tell me a little bit about each of your four dogs?"
"I got my first dog, Buddy, from Cambodia. He's a double-amputee. He was rescued from the street. He had been hit by a motor bike and was left in the street for two weeks.
They rescued him and he was over there for about a year — my mother decided to bring two dogs over from Cambodia, and so I decided to adopt him.
He came over as a one-year-old, but he also came with a five year old, Gremlin, who is another one of my dogs.
My third dog (Missy) is a senior from a rescue in Florida. She was about twelve and had been in a shelter for the previous three years. She's a 65 pound Lab Hound. She's a lot bigger than my other dogs! All of my other dogs are small.
I got my fourth dog (Fifi) not even a year ago. Someone found her in West Philadelphia in the winter. Because of her size (about 16 pounds), I thought Fifi would go really well with my others."
"Which of the four are using Lolahemp?"
"I use it for all four, at least twice a day."
"Ailment-by-ailment, what are they using it for?"
"Buddy is only four, but because he's a double-amputee, he's going to get arthritis as the years go by. He's gaining weight and his body is changing, so he's not as spry anymore.
I wanted to make sure that we were stopping the inflammation up front. I use the Lolahemp treats for him, but also the extra strength and regular oil.
I use the oil and the treats both about 2-3 times per day.
When he was hit by the motor bike, he was left in the street for two weeks. So, mentally, he's continually stressed out.
He's not really afraid of noises — just people in general. We're not really sure what happened to him when he was out in the street. So, I use the Lolahemp for that stress, and it calms him down.
I chose not to put him on any prescriptions. The Lolahemp for buddy works day-to-day. It's kind of like a prescription medication.
He has episodes about three times a day where he gets super hyper and can't calm himself down. Giving him the Lolahemp, the episodes don't require my attention as much because it calms him and makes it so he's able to cool himself down without me really having to say anything.
And that's from Lolahemp, no doubt about it."
"So Buddy is using Lolahemp for his joint issues, but also for his mood?"
"That's correct."
"What about Gremlin?"
"Gremlin is about 8 now. He had a hip surgery about a year and a half ago. It was a pretty big surgery. It was his luxating patella, so they take the middle of the hip bone out, and that's pretty painful.
Also, he's not extremely anxiety ridden but he has a hard time going to sleep or calming down. We use the Lolahemp for the hip to stop the inflammation.
Gremlin sitting in his bed
I know it works because, in the winter, I can see when he's limping, and you can see that he'll stop limping on his back-right leg after using Lolahemp treats.
That took about three weeks for him to recover from that [surgery]. We used Lolahemp to help him recover from the whole thing. It helped him sleep through it, and I feel like it helped the inflammation.
Now, we use it as a preventative and also at night to calm him down so he can get some rest."
"And the other two dogs?"
"For Fifi, who's the younger dog, we're not really sure what her background was. But I do know she was very anxious when she came into my home. Very scared of everything.
We think she was abused. She would cower to the floor every time you would move your hand or go near her. Lolahemp has been wonderful for her. We use Lolahemp for her mood or to calm some of the fear she gets when there's commotion going on.
Fifi lounging
You can tell there's a complete change in her attitude with Lolahemp. She's not scared anymore when someone reaches out to pet her and she doesn't have trouble with the other dogs.
That is the Lolahemp."
"And your lab, Missy?"
Missy getting comfy
"She's maybe going on 14 now. She was still sort of spry when we got her two years ago. I'd give Lolahemp to her to help her go to sleep, and also preventatively because her back leg was starting to bother her.
She was also on a pain prescription and I feel like it worked, but the Lolahemp worked just as well. Recently, over the last two months, Missy has started getting dementia.
We're in the beginning phases. She can't handle fireworks or beeping noises. We don't know why because we don't know her history.
I give her a little more Lolahemp than normal now. The biggest thing with the Lolahemp for missy is that she's also getting Trazodone for dogs [for anxiety]. She just started the prescription. She's doing really well on it at night, but she needs that extra push to calm her down, and that comes from the Lolahemp.
The second part is the oil. I started using it twice a day in her food and I noticed her coat is a little nicer and she can jump without falling.
The extra-strength oil does make a big difference. She can jump into the back of the car and, for a while, she couldn't jump at all. But that hasn't happened since we started using the extra-strength Lolahemp."
"So, what types of things have you been able to do that you hadn't been able to before you started Lolahemp, if anything?"
"They're more active, and rather than me having to calm two of them down all of the time, we're able to have a little bit better playtime.
Before the Lolahemp, it was very hard to have the younger ones all in one small space because they were so anxiety-ridden.
Buddy & Gremlin waiting for play time
Now, we're all able to sit down and I can calm them down so much faster because they're on the Lolahemp day-to-day.
Without Lolahemp, that wouldn't be possible.
Also, walks are huge. With the excitement before the walk, I get maybe a good three minutes of excitement with the Lolahemp. Before Lolahemp, it was pure madness before each walk. I can also take Buddy and Fifi out into public places and they're not darting three different ways."
"Last question, have you recommended Lolahemp to friends family other owners?"
My mom. I introduced her to the treats, which she absolutely loved. But then we ordered the balm, and I absolutely love it, the effect is immediate. You put it on their feet, they lick it, then they're asleep.
I prefer the treats, though, because it's about the amount I want to give them throughout the day.
My mom has seven senior dogs that are handicapped in some way. She uses the Lola balm and it's her favorite. She uses it on hotspots, joints, and paws. They're older dogs that don't always want to eat a treat, so the balm makes it a little easier for ingestion of the Lola rather than forcing them to eat a treat.
I tell everybody about — I love it it's my favorite. Your stuff has literally saved my life; I'm a woman with four dogs so it makes my life so much easier!
Thank You, Samantha!
We love hearing the ways this product is making a difference, and we are so appreciative for your time as well as your enthusiasm and support for Lolahemp!