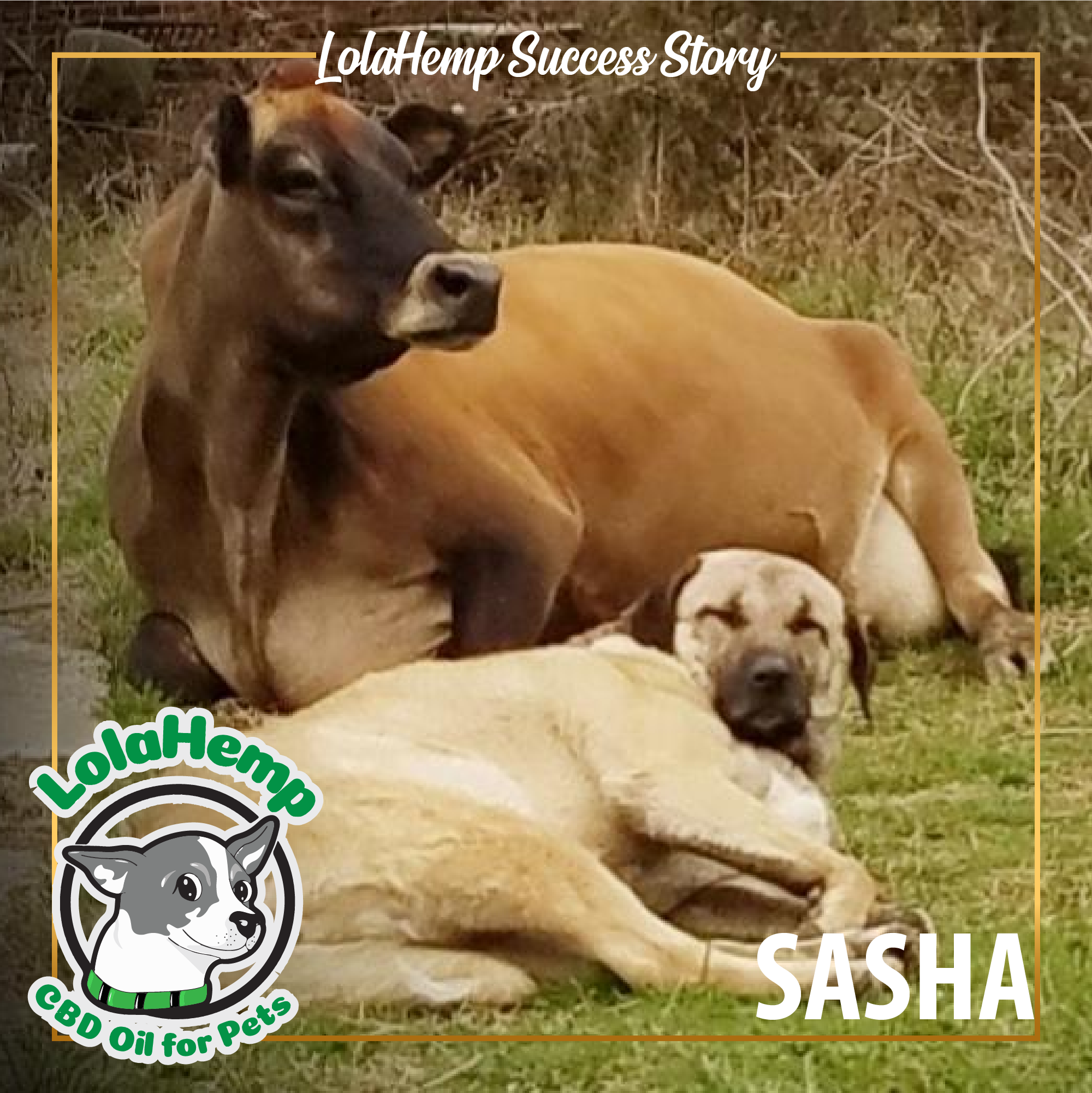 Today we want to share another Lolahemp success story. We talked to Ginny Irving who told us about her dog Sasha, a hardworking livestock guardian dog who began suffering from seizures earlier this year:
I live on a small farm in eastern Tennessee where I provide raw milk, cow and goat shares and farm eggs. Sasha, is a 6 year old, 146 pound Anatolian Shepherd who works hard to protect my livestock from predators. I got her as a puppy from a man who ran a solar farm and raised chickens and sheep in the pasture under the panels. Her mother was a hardworking livestock guardian dog. 
Sasha takes her work very seriously. She is very gentle with children and other animals. She even cleans the baby goats! We call her "The Crumbinator" because she vacuums all of the crumbs from people's cars who visit our farm. However, if you are a raccoon, coyote, or possum, watch out! Sasha will protect our livestock at all costs!
Last autumn I had noticed her slowing down some and just thought that maybe it was just because it was hot outside. But then one day in February I had a friend's little girl over here and she pointed to Sasha and said, "Look at Sasha. Look at her leg!" At first I thought she was scratching her leg because it was itchy but then I realized she was having a seizure. We went over to her, petted her, talked to her and she just laid there for a while until after the seizure. Later that day she started giving me signs again that she was going to have another seizure and, sure enough, she did. We took her to the vet and she had another seizure at the vet's office. 
The vet diagnosed her with ehrlichiosis and lyme disease as well as a low thyroid. She was put on doxycycline for the tick borne diseases, thyroid tablets for her thyroid, and valium along with another medication to treat the seizures. However, the vet warned only to give the seizure meds to her if I had to because it would make her drowsy and drugged and she wouldn't be able to do her job.
My friend Donna, a veterinarian, introduced me to Lolahemp. I give her 25 drops twice a day. Like me, she was also wary of some of these strong pharmaceuticals and suggested I try Lolahemp instead since it's a natural product. 
When she was having these seizures, I didn't know if she was tired or just not into the work. Anytime she felt a seizure was coming along she would give me signs about it and cling herself to me. She just seems more like herself now that she's using Lolahemp and has stopped seizing. Within a week of starting Lolahemp, Sasha stopped clinging to me. Sometime later she finished her doxycycline and that makes dogs very sick in their stomachs. Now that she's done with that it seems she's picking back up again and feeling better. 
She's working again and seems happier, confident, and more like herself on the Lolahemp. It's definitely benefiting her and I'm so glad to see her back in action and feeling like herself again. It's improved her quality of life and given me peace of mind. I don't have to worry about her having a seizure when she's out in the woods doing her work. I don't have to worry about a coyote attacking her while she's going through a seizure. 
I went to a family reunion earlier in the year and was out of Lolahemp. The girl that takes care of Sasha when I am out of town called me and she asked if Sasha has seizures, because she had one when I was gone. I realized she wasn't getting her Lolahemp when I was away. When I got back I started giving her more of the Lolahemp and she stopped having seizures. After seeing the benefits of Lolahemp CBD oil for Sasha, I would recommend it to a friend looking for a natural product to help their dog.
- Ginny Irving & Sasha