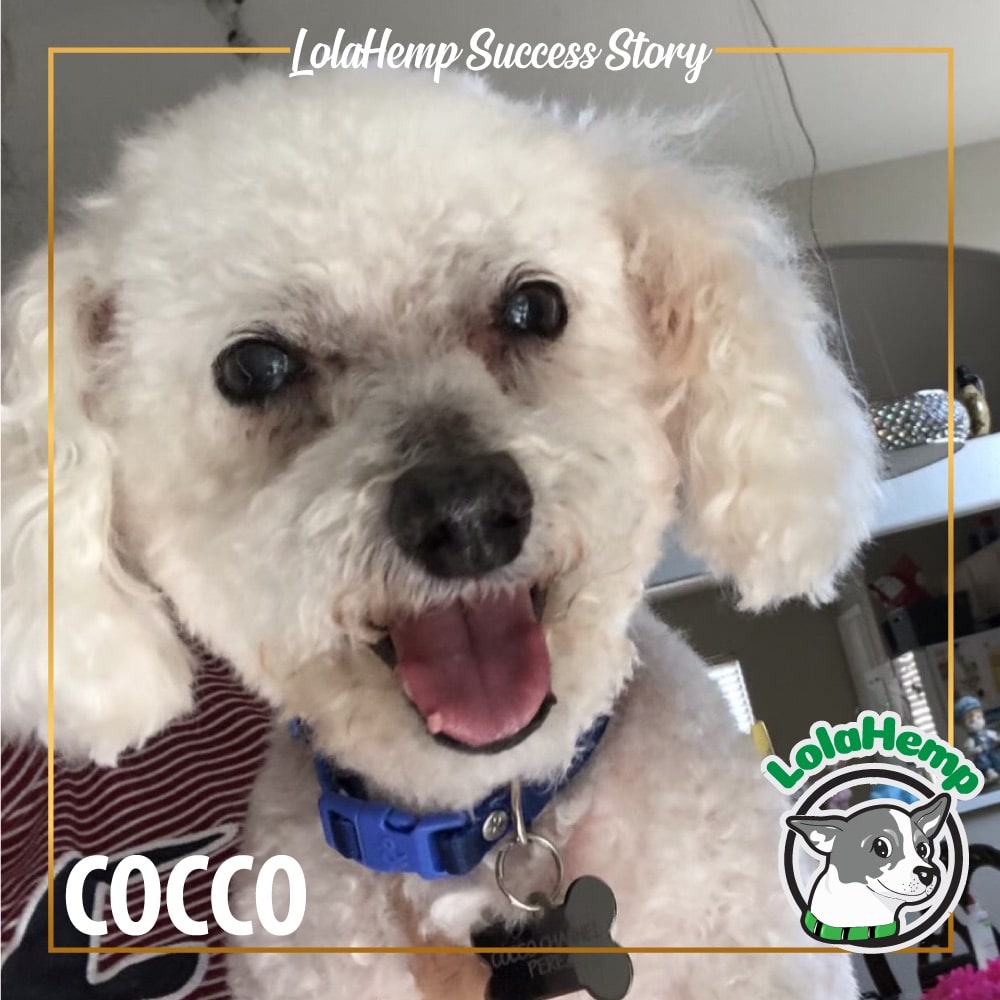 Today we are hearing from Rafaela Pérez. Her Christmas Miracle, Cocco, was suffering from severe mobility issues caused by a spinal injury. Be sure to see the before and after videos below to see the difference that Lolahemp made for Cocco.  
Can you tell us a little bit about Cocco? 
Cocco is a 15 year old Bichon and we rescued him a year ago (in December of 2019). He was our Christmas Miracle! 
We rescued him from the streets on the morning of the 25th. It was a very cold and rainy morning. We were out in our garage when we saw him pass our house with an EXTREMELY dirty, wet and heavy dog sweater. We chased after him and rushed him inside for a bath and lots of rest. And the rest is history. 
Cocco is a very calm and loving little pup. We believe he's been through lots of trauma because he's very scared of any types of hand movements he sees going towards him even if it's cuddles! Overall he's just an old little baby that needs and deserves all the love he could possibly receive.
What kinds of issues did Coco have before you found Lolahemp?
When we rescued Cocco, we took him to the vet right away because his teeth were HORRIBLE. His teeth were literally rotting in front of our eyes. It was very sad. The vet told us he also had a dislocated hip but never said how we could treat it so we thought he would live with it. Maybe nothing would be wrong. That was our first mistake. 
Months went by and we started noticing Cocco wasn't able to walk, he wasn't even able to get up or move. He was dragging himself all around the house. 
We took him to the vet as soon as we could and it turns out he had a spine problem which was causing him pain and swelling to the point where he couldn't lift the lower half of his body. We were broken into a million pieces. 
The vet said we had two choices, 1. Let him just live his remaining life how he was or, 2. have him go through a 50/50 surgery to fix his spine issue. 
As a pet owner, when you hear that your baby might not make it out of surgery, you don't even want to risk it and that's what we did because he's very old and recovery was going to play a big factor and it was just a very hard decision at that point. Then we found Lolahemp!
[View Cocco's BEFORE Lolahemp video below]
Did you try any traditional treatments at first?  
Yes we did. We thought he might have joint issues because that's common in older dogs so we gave him joint vitamins everyday and it didn't seem to be doing anything for him. 
What are some of the specific improvements you noticed after using Lolahemp? 
As soon as he had his first dose of Lolahemp, we saw a difference. He was able to get up by himself and hold himself up. Little by little he was able to walk more and more. We noticed him improving over time - and now he can even run!!! 
How much Lolahemp do you use?  
We went off of the guide that comes in the box so about 0.25mL.
Have there been any unexpected benefits since Cocco has been taking Lolahemp?
He has been way more happy and more full of energy. 
[View Cocco's AFTER Lolahemp video below]
Is there anything you are able to enjoy with your pets now that you couldn't before Lolahemp? 
Yes before my pet wasn't able to play fetch or even seem to have energy to play and sometimes even to go on walks and now he seems to love doing those things! 
Would you recommend Lolahemp to a friend?
I would 100000% recommend Lolahemp to anyone to help another family.