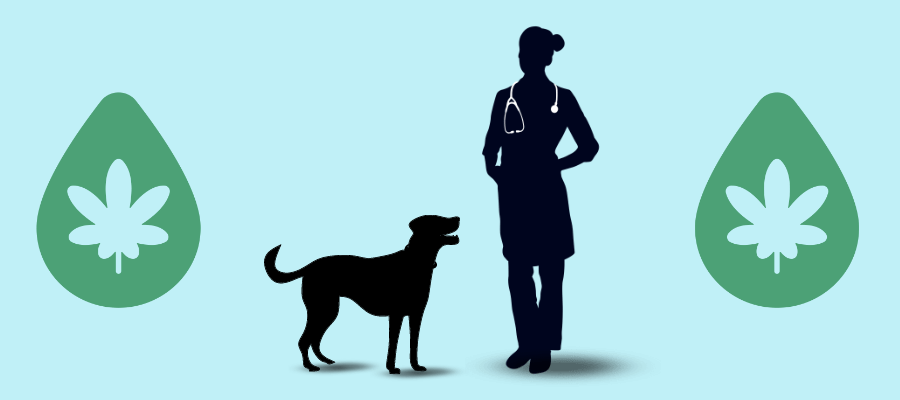 Given the growing popularity of CBD for pets, you may wonder: do vets recommend CBD oil for dogs?
In short, it's complicated. Right now, legal restrictions prevent veterinarians from prescribing or recommending CBD to treat your dog's health concerns. 
Even though your veterinarian can't prescribe CBD, you're still welcome to ask about it. Some vets will be open to discussing CBD oil when you ask, while others will not.
Consulting your veterinarian is essential before starting CBD, especially if your dog has health concerns or takes medication. So what can pet parents do? In this blog post, we'll explore the reasons behind the situation and provide tips on how to talk to your veterinarian about CBD.
Legal Ambiguity
The main reason your veterinarian can't recommend CBD is its lack of FDA approval to treat health conditions in pets. 
Approval from the FDA (U.S. Food and Drug Administration) requires extensive testing for safety and effectiveness. The process is expensive and takes years to complete.
The FDA has not approved CBD to treat any disease in animals. As a result, veterinarians are not legally allowed to prescribe or endorse CBD to treat medical conditions like arthritis. 
There isn't yet enough research on CBD's effectiveness in pets to get FDA approval, but the results so far are promising. 
CBD regulations in veterinary medicine will likely change in the future. But for now, it's up to you to ask your veterinarian about CBD if you're interested.
Regulatory Confusion
When you ask about CBD, some veterinarians will gladly discuss it and help you determine if it's safe for your dog. However, others will stay mum.
Why does this happen? In short, the regulations surrounding CBD can be difficult to interpret.
Federal and state regulations around pet CBD change frequently and vary by state. Veterinarians who violate their state's ethics regulations can lose their license to practice. Straightforward answers about CBD are hard to find. So, many veterinarians are understandably cautious. 
Fortunately, the American Veterinary Medical Association (AVMA) supports further research on CBD's safety and value for pets (1). The AVMA has also released resource documents for veterinarians summarizing the latest CBD studies in animals. These documents will help your veterinarian provide the best possible care for your dog. 
Lack of CBD Research
Another reason many veterinarians hesitate to discuss CBD oil is the lack of major research studies on its efficacy and safety. 
So far, small studies suggest that CBD is safe for most dogs. Limited research also suggests CBD may ease discomfort associated with a joint condition called canine osteoarthritis (2). 
However, most information about CBD for pets online is based on anecdotal evidence or "word of mouth." Testimonials are certainly helpful, but CBD regulation changes will require comprehensive clinical trials. 
Dishonest CBD Brands
The media "buzz" surrounding CBD also gives veterinarians pause. 
The FDA has issued warnings to multiple CBD brands for false advertising (3). These warnings call out issues like mislabeled products, illegal levels of THC, contamination, and misleading health claims.
Overall, dishonest companies give CBD a bad name in the medical community and slow down research progress. 
When it comes to your dog, be sure to learn how to spot quality CBD brands before buying. Countless websites sell CBD oil, chews, treats, and other dog products, but not all CBD is created equal. 
Look for third-party batch testing on the vendor's website to confirm that your dog's CBD will be free of pesticides, THC, and other contaminants. 
Batch testing will also show how many milligrams of CBD are in the product, which is crucial for accurate dosing. Your veterinarian can help you choose an appropriate dose based on your dog's weight and health status.
Talking to your Vet about CBD Oil
What's the best way to discuss CBD oil with your veterinarian? Don't worry; we've got you covered.
Here are some tips to help you talk to your veterinarian about CBD:
Do your research: Familiarize yourself with CBD research, the different types of products (full spectrum, broad spectrum, etc.), and the certificate of analysis to ensure you're discussing a high-quality product.
Be open and honest: Clearly communicate your concerns and questions with your vet. Your dog's well-being is your top priority, and your vet will appreciate your dedication to their health.
Share your sources: Provide your vet with high-quality sources such as clinical trials, research studies from institutions like Cornell University, and reputable pet associations like the American Kennel Club (AKC) (view the AKC's CBD advice here). If your vet simply hasn't had time to catch up on CBD, bringing these resources to your appointment may help.
Changes Ahead for CBD
As more research is conducted and larger clinical trials become available, CBD regulations for pets are likely to change. CBD may become more widely accepted in the future, but it's too soon to tell. 
In the meantime, ask your veterinarian if CBD is appropriate for your dog. Although veterinarians cannot currently prescribe CBD oil, having an open conversation with your vet is crucial. Together, you can build a safe and effective wellness plan based on your dog's unique needs. 

References
1. https://www.dvm360.com/view/avma-releases-cbd-resource-guide-for-veterinarians
2. https://doi.org/10.3389/fvets.2018.00165
3. https://www.ftc.gov/system/files/ftc_gov/pdf/2022-04-04%20DAP%20Extract%20Labs.pdf